Kind Words from Real People
It was great! The workers were prompt, friendly, quick, thorough, professional in every way! I could not be more pleased. As the old song goes.."I can see clearly now …" (that my windows are really clean).
Nancy Leys
Kenosha Homeowner
ViewRenew did an excellent job! The windows are streak free and the screens and tracks were cleaned very well. I couldn't be happier. It was well worth the cost for the time it saved me and did a better job than I could have.
Jennifer Shufelt
Racine Homeowner
Everything was amazing!  They arrived on time, were courteous & friendly.  The windows looked wonderful!!  I will hire him again this spring.  I would recommend them to everyone!
Judy Reid
Milwaukee Homeowner
What Makes us different
Our mission is to be the NICEST cleaning professionals that you have ever worked with.
Not only do we stand behind our work 100% providing great results that you will be thrilled about, we are dedicated to your happiness and providing services that WILL make your life easier.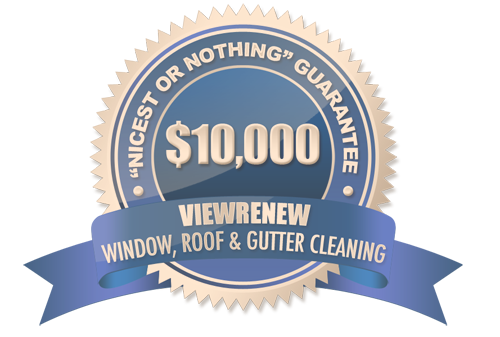 Home of the $10,000 Nicest or Nothing Guarantee
If you're not convinced that you've finally found SE Wisconsin's Nicest Window, Gutter and Roof Cleaning technicians, then you simply won't pay a dime, up to $10,000 of your invoice.
The Grandma Rule
We treat all of our clients as if they were our own Grandma: with respect, kindness, courtesy, thoughtfulness, gentleness, care, and appreciation.
It's a good rule.
Award Winning Service
From the initial contact straight through to the follow up, we promise not to miss a beat. It's our mission to give you an amazing service experience.
3 Month Clog-Free Guarantee
Get free downspout inspections and a Clog-Free Guarantee on all gutter cleaning services. It's as simple as that.
Amazing customer service
ViewRenew has been recognized above it's peers with the prestigious 2013, 2014, & 2015 Angies List Super Service Award. An honor only given to the top 5% in the industry.
Multiple Ways to Save!
"$15 off Cash Discounts"
"$15 Senior Discount"
(Only 1 discount can be applied per household/service/day)
Don't Overlook These Important Home Maintenance Tasks
SE Wisconsin Cleaning Services.
As a homeowner, you want to do your best to ensure that everything stays well-maintained and attractive. While you may regular handle household chores and keep your landscaping looking impressive, you may be neglecting a few important tasks. You may not have considered the importance or benefits of keeping your home's windows and exterior siding clean, nor how necessary it is to clean your dryer vent and gutters on a regular basis. By hiring a professional to handle these tasks, you can ensure that they are done properly and regularly while saving time and effort in your life.
You may not have even considered that your windows need to be cleaned, but you will be amazed at the results once they are! The windows of your home are probably much dirtier and grimy than you even realize. Once they are cleaned, you will enjoy a brighter interior and more impressive views of outside. Trying to clean windows yourself can be time-consuming and frustrating. You will likely still have streaks on the glass when you are through, as well. Also, it can be dangerous to try to reach some high windows in your home. Choosing professional cleaning is a much more efficient and safe option.
There are two different methods for window cleaning that professionals may use. The first way is scrubbing your windows to loosen and remove any built-up grime or debris. The windows are then squeegeed to remove any remaining water or dirt, and the window sills and edges are wiped clean. The second method involves using pure water to clean your windows thoroughly to a spot-free shine. Pure water wants to bond with solids, so it efficient cleans surfaces and doesn't require any squeegeeing or wiping dry. Both methods will provide you with pristine, transparent windows, so the choice is a matter of preference and the opinion of your window cleaning professional.
Window Cleaning Milwaukee, WI | Window Cleaning Racine, WI | Window Cleaning Kenosha, WI
One especially effective way to improve the appearance of your home's exterior is to have it professionally pressure washed. Over time, your home's siding develops a significant build-up of dirt, scum, mold, mildew and even algae. You may not notice the filth and discoloration to your home until it is removed by pressure washing for the first time. After washing, you will see how much dirt and grime are removed and how bright and impressive your house looks. Pressure washing's benefits are not only aesthetic—algae, mildew, and mold can damage and wear away the siding or paint on your home. By having it removed, you will save yourself from future siding repairs or repainting as well as improving the overall look of your home. Pressure washing can be done on all sorts of material, including laminate siding, wood, and cement. Most people don't own their pressure washers in Wisconsin, and they can be difficult to operate correctly, so it is best to let a professional wash your home.
Pressure Washing Milwaukee, WI |Pressure Washing Racine, WI |Pressure Washing Kenosha, WI
There are some reasons why it is important to keep your gutters clear and free of debris. Leaves, twigs and pine straw, can
easily clog your downspouts, especially after a storm or during the fall. Weeds and vines can begin to grow in your gutters over time, as debris and plant matter flies through the air each day. This can lead to blockages or overflow onto your roof or down the side of your home. This can cause roof damage or leaks within your home. Clogged gutters can also lead to foundation problems if the displaced water flows under your home.
Gutter cleaning can be dangerous to do alone if you are not experiencing at working from a ladder or a roof. The height involved means that you could seriously injury yourself if you should fall while trying to clean your gutters. As gutter cleaning often requires rigorous activity and a lot of movement, the likelihood of you falling is even greater. For your safety, hire a professional for this task. Also consider us for your snow removal Racine needs.
Gutter Cleaning Milwaukee, WI |Gutter Cleaning Racine, WI |Gutter Cleaning Kenosha, WI
Most people don't realize how important it is to clean the vent in their dryer on a regular basis. Just like the lint screen that you clean between uses, your dryer vent can collect lint, fuzz, and hair and become clogged. This can lead to very serious problems and can be very dangerous. The risk of a dryer vent fire is high, and you might also experience high levels of carbon monoxide within your home. It can also lead to mold or mildew, which can be difficult to get rid of and have damaging effects on your health. Avoid the possibility of having a fire start in your dryer vent by having it professionally cleaned every six months at a minimum.
A clogged vent will keep your dryer from operating efficiently. This will lead to higher power bills as it will take you longer to dry your clothes properly. Clogged vents can also put unnecessary strain on dryers, causing them to malfunction or shortening their lifespan. The extended drying time required with a clogged dryer vent can also prematurely wear or damage your clothes. Keeping your dryer vent clear of blockages with professional dryer vent cleaning will help keep your utility expenses low, prevent large repair or replacement costs and help your dryer dry your clothes quickly.
It can be a challenge to keep up with everything required of you as a homeowner. Luckily, professionals can help take care of the areas you may have forgotten or been unable to accomplish on your own. Cleaning services like power washing will greatly enhance the appearance of your home, and cleaning your dryer vent and gutters is important for the safety of your home and family. Don't risk unnecessary damage or problems in your home by neglecting these tasks.
Dryer Vent Cleaning Milwaukee, WI | Dryer Vent Cleaning Racine, WI | Dryer Vent Cleaning Kenosha, WI